Nextiva is designed as a cloud-based system for business communications. It also integrates customer service features, while also delivering team collaboration solutions as well. Some of the main things they cover are specialized reporting, analytics, sales, and customer tools, not to mention the novel VoIP business phone system that they deliver. The company's focus is to help your business with any communication requirements while adapting and adjusting everything according to your own needs.
Additional reading:
» Our complete review on Nextiva Plans & Pricing in 2022
» Top 10 Nextiva Alternatives
Nextiva Business Phone Service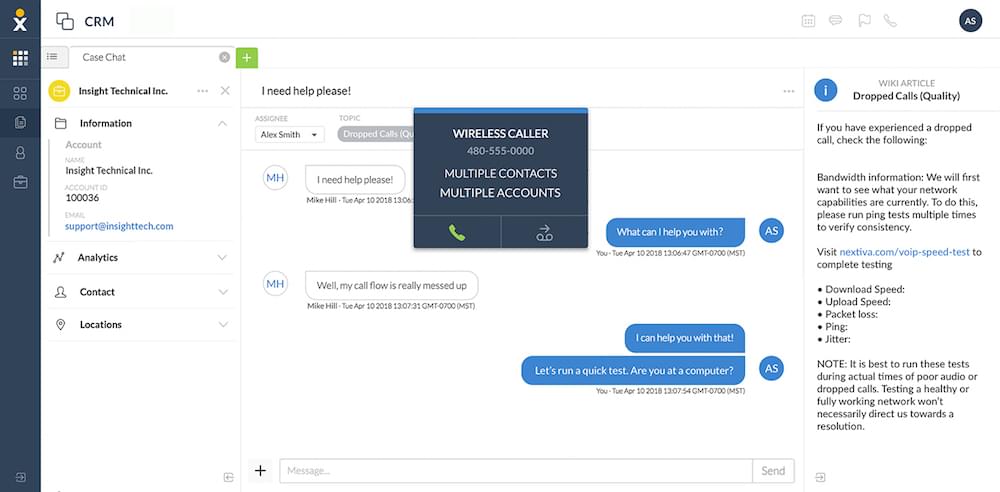 The main product delivered by Nextiva is their business phone service. This is a very complex service that has VoIP support, and also the ability to send and receive messages from the app or desktop. They also feature call routing, screening, call forwarding, and many others. They also provide free number porting, which means you can keep your current phone number while also adding toll-free or local numbers. You can also access voicemail to text or email, call recording and unlimited calls to Canada and the US as well.
Another great thing about Nextiva is the fact that you can have agents receive and handle calls from any device. They can even switch to another device in the middle of the call as needed, something that becomes incredibly helpful and convenient. You can also set custom priority alerts, which helps save time as you prepare for the call. It's even possible to customize the extension numbers, block or reject various phone numbers, as well as use the integrated push-to-talk system.
Thanks to the auto-attendant system brought by Nextiva, it becomes a lot easier to do things like call routing for example. This helps lower the wait times for customers, not to mention you can have a better monitoring solution that does wonders in the business world. The fact that you can also have users use Nextiva services on their own devices is really convenient. Of course, you can also choose to acquire new equipment directly from Nextiva, in case you want everything branded or just want to avoid any hassle with personal devices.
Nextiva Sales can be phoned at – (866) UPDATE
Nextiva Customer service can be phoned at – (800) UPDATE
Nextiva's Business Phone Pricing and Plans
There are 3 plans, the Basic, Pro, and Enterprise plan. Basic costs you $22/month/user, Pro is $25 and Enterprise is $32. In the Basic plan, you have free number porting, toll-free and local numbers as well as unlimited calling. If you want SMS messaging and unlimited conference calls you must choose the Pro option. Enterprise also adds Voice Analytics, as well as call recording. Paying annually will reduce prices to $19.95, 20.95, and $27.95/month/user respectively.
| | | | |
| --- | --- | --- | --- |
| Features | Basic Plan | Pro Plan | Enterprise Plane |
| Price | $22/mo/user | $25/mo/user | $32/mo/user |
| Free Number Porting | ✓ | ✓ | ✓ |
| Free Local/toll-free Numbers | ✓ | ✓ | ✓ |
| Unlimited Calling | ✓ | ✓ | ✓ |
| Call Recording | X | X | ✓ |
| SMS Messaging | X | ✓ | ✓ |
| Unlimited Conference Calls | X | ✓ | ✓ |
| Voice Analytics | X | X | ✓ |
Here is a detailed look at the above plans and pricing, but with an annual commitment: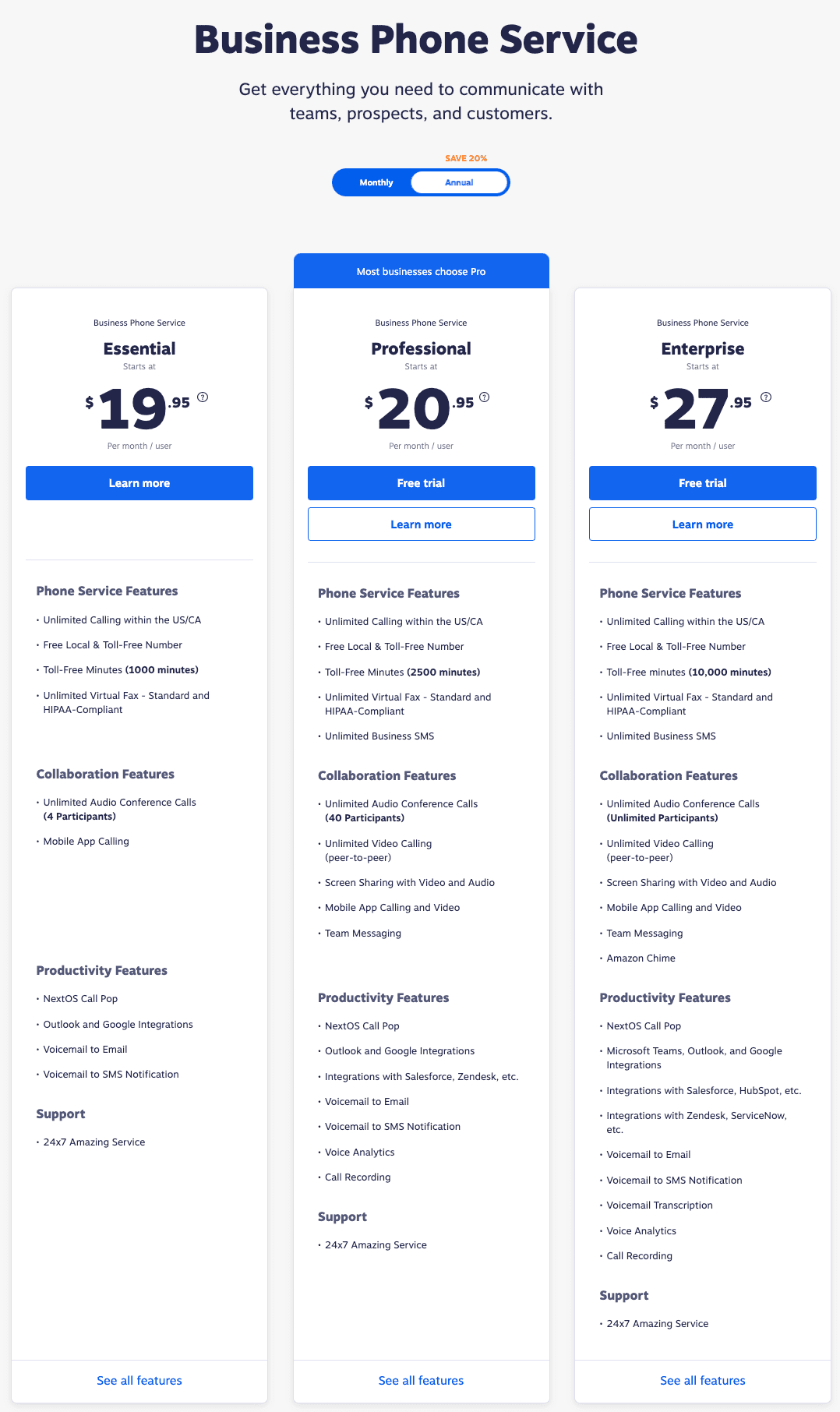 VoIP Hardware
In case you want to avoid having users bring their own devices, it makes sense to rely on the Nextiva VOIP hardware. They do have conference phones, cordless phones, Cisco phones, and many others. The VOIP adapters are named Nextiva Fax Bridge and cost $150, their role is to connect your current fax machines with their vFax service. If you are willing to pay $850, they will provide you with the AudioCodes Mediant 500. This service is integrating their SIP trunking service with any PBX you want. What makes this nice is that you don't have to acquire any additional equipment.
In regards to the conference phones, they have a multitude of options, which vary in price. The least expensive one is $195, and the most expensive option can go up to $1100. These phones come with features like color LCD displays, speed dialing, USB and Bluetooth support, Noise Block technology, as well as a 20-foot vocal pickup range.
Nextiva also offers 17 different types of desk phones too. These have expansion module connectivity, headset input, support for up to 16 phone lines, USB input, and WI-FI or Bluetooth support. Prices can vary from $74.99 to $349.95. Their cordless phones cost $84.99 it $169.99, and they include a color LCD screen, HD voice, cordless headset connectivity, and support for up to 8 different phone lines.
Nextiva Suites & Mobile App
Nextiva does offer multiple suites that you can buy depending on your requirements. The Business Communication Suite is ideal if you want the Analytics, Customer Surveys, Live Chat, sales and service CRM tools, and the business phone service. These range from $19.95 per user/month for the Essential plan to $20.95 for Professional and $27.95 for the Enterprise plan.
Nextiva has an Android and iOS mobile VOIP app, however, you need to have either the Nextiva App Addon or you must get the Pro/Enterprise business communication suite. The great benefit here is that you can easily switch from your desktop to mobile without a problem. All contacts, be it personal or business-related will be within the app., With that in mind, the app offers a multitude of call system solutions like instant messaging, call routing, custom caller ID, auto-attendant, screen sharing, video conferencing, and voice conferencing, unlimited HD voice calls and voicemail management.
Nextiva User Experience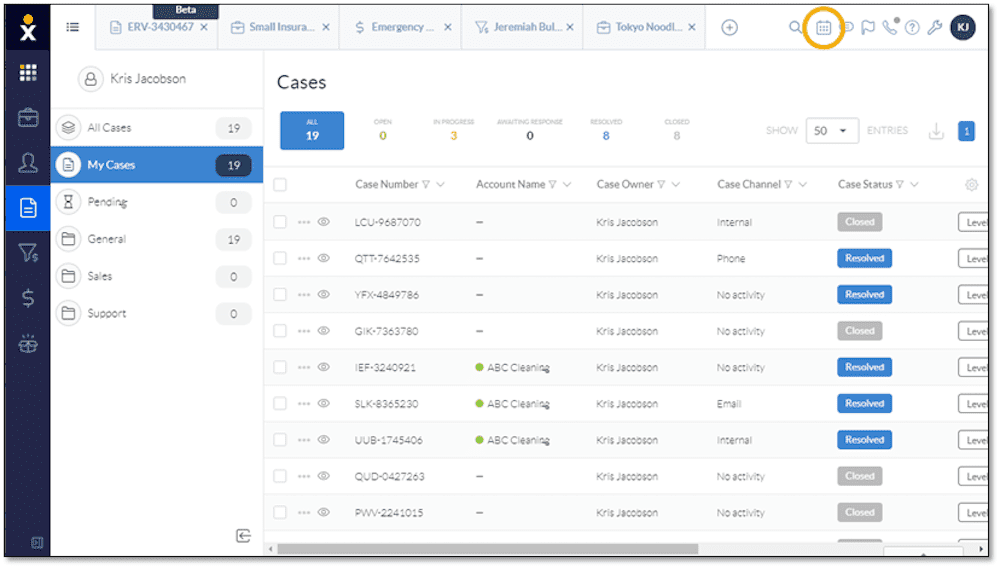 Nextiva boasts an impressive client list including Taco Bell, Stanley Steemer, the YMCA, and even the Conan O'Brien Show.
But do Nextiva's claims that its tools are a good fit for businesses of any size and stage measure up?
Nextiva reviews from users consistently point to the following pros and cons of relying on Nextiva for your company's unified communication and collaboration needs.
Nextiva Pros
Nextiva delivers professional, highly detailed analytics that is easy to adapt to your requirements
You receive great customer service and productivity-related features
Software training is available for all customers
The audio call quality is very good
You don't have to rely on too many collaboration tools
The mobile app is reliable and robust
Professional interface
Stellar customer service
Nextiva Cons
The training and onboarding process can take some time
The cancellation fee is high
SMS texting doesn't cover photos
Premium features can be expensive
Fewer integrations when compared to competitors
Contracts can be lengthy and problematic.
Should you use Nextiva?
Nextiva is ideal for large businesses that have a lot of employees and massive call volumes. It can also be suitable for smaller companies that want to streamline their own communication system. While it can be expensive and with stringent contract requirements, this is still something to take into consideration, so give it a try for yourself!