Dialpad is a very popular VOIP service provider that's fully cloud based. The service is designed to focus on helping companies of all sizes with a large range of services. These are anything from using web conference solutions to creating an outbound sales call center, customer support solutions or a VoIP business service. The price points vary based on what solutions are needed, and everything is adjustable according to your own requirements.
With revolutionary, cloud-based, VoiceAI software, Dialpad presents businesses with capabilities such as real-time call Thanks to its VoiceAI software and cloud based systems, Dialpad makes it easy for companies to access solutions that would be very hard to access otherwise. Things like real time coaching and sentiment analysis, transcription for real time calls and smart notes are fully adaptable to the needs of your business. On top of that, Dialpad comes with stellar app integration too. That means it works flawlessly with solutions such as LinkedIn, Salesforce, Zendesk and GSuite, among many others.
You always want to have a very good return on investment, and that's where Dialpad shines. The service is designed to be very professional and adjustable to your needs. At the same time, you do have a lot of communication service options to choose from, so it's all a matter of narrowing down what works for you and what solutions are ideal in a situation like this.
Let's take a look at Dialpad products & pricing to help decide on how to move forward.
Additional reading:
» Our complete review on Dialpad Plans & Pricing
» RingCentral vs Dialpad
Dialpad Products Overview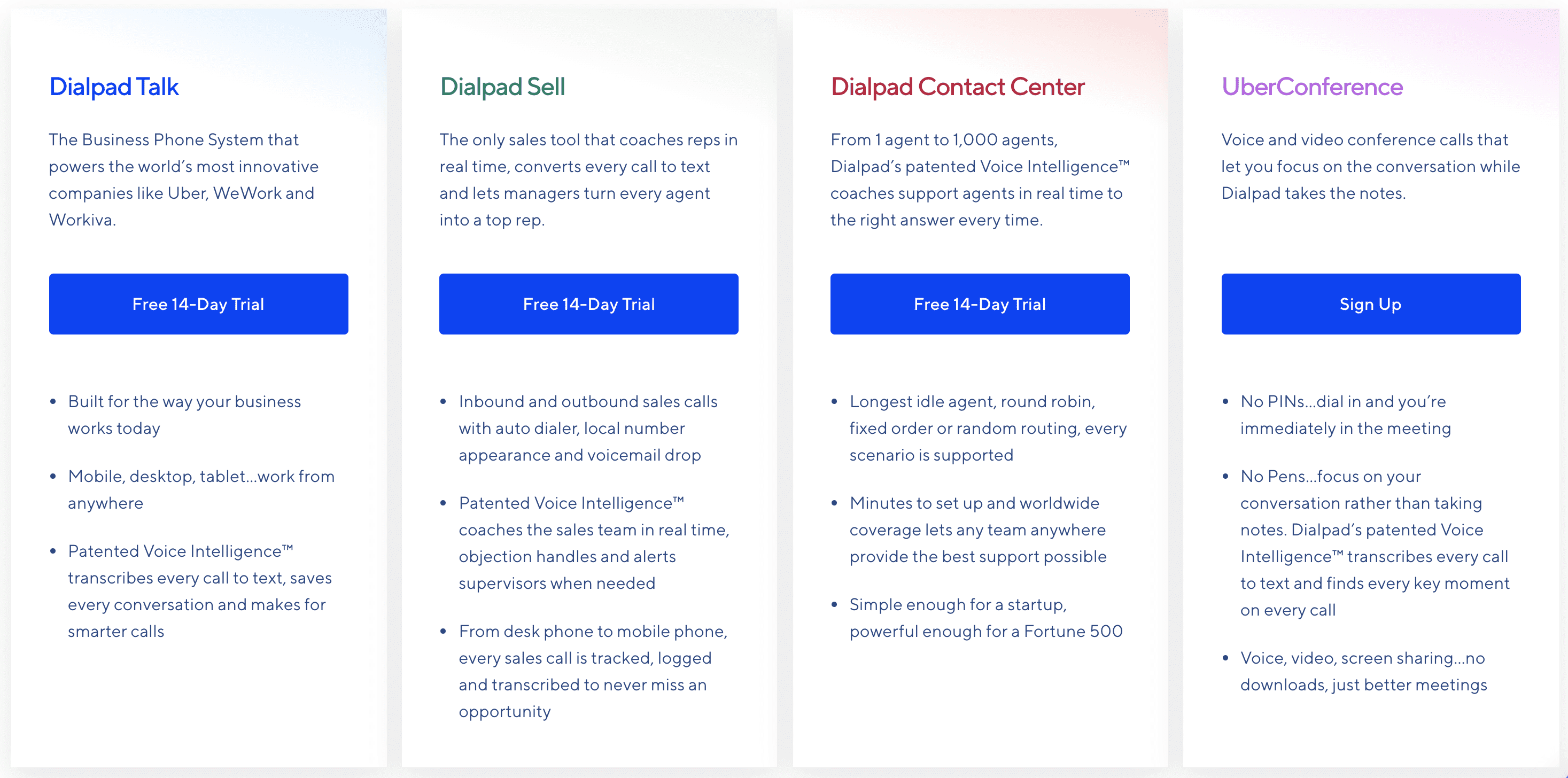 Dialpad has a multitude of different services that you can focus on. Dialpad Talk is a business phone system which can be accessed from anywhere and it has a patented voice intelligence solution. Dialpad sell is a sales tool designed for inbound and outbound sales calls. They can also track and log, even transcribe every call to ensure it's all working the way you want.
Then there's the Dialpad Contact Center that helps you coach support agents in real time so they can deliver the right solution. Dialpad has its own video and voice conference system named UberConference. This is the best approach if you want to ensure everything is working exactly the way you would expect.
Dialpad Talk Plans & Pricing
Dialpad Talk is the solution created in order to deliver a VoIP business phone system. This offers support for the modern and traditional phone features, as well as video and voice integration, even a desktop and mobile app support. It's even possible to sync the business phone system with any of your devices. Then you can also inte3grate any of the current services you are using at this time.
Dialpad does a very good job when it comes to including voicemail, call routine, international or unlimited calls as well. Like all the other Dialpad services, Talk has a 14-day trial that you can use to get accustomed to the service. Then you can choose one of the 3 pricing options, named Standard, pro and Enterprise.
 Dialpad standard costs $20/month/user, while Pro is $30. If you get billed annually, it will be $15/month/user for Standard and $25 for Pro. The Enterprise option differs in costs and it's only available on an inquiry basis, depending on what you need. Standard has a 1 user limit, pro has 3 users and Enterprise can be up to 100 users.
Additionally, all plans support Unlimited calling in US and Canada, mobile or desktop app, call recording, custom routing, toll-free numbers, automatic spam detection, switching calls between multiple devices, 3-way calling, voicemail transcription, click to call, and speech. When it comes to collaboration features, all options have online meetings, unlimited MMS and SMS, but also contact syncing. Pro also adds call queues, and international SMS, which are also in the Enterprise Plan.
Integrations will also vary, with Standard supporting ServiceNow, APIS and Webhooks, Outreach, Office 365, G-Suite. Pro also offers Salesforce, Zendesk, Slack, Hubspot, and Zapier. If you go with Enterprise, you also have OneLogin, Azure and Okta support.
Choosing the right plan
One of the advantages you get with Dialpad is that you can always choose what plan you want based on your own requirements. It's a very good idea to test these out and see what works for you. With that being said, the Standard plan can be ideal for a lot of entrepreneurs that either work alone or with a very small team.
However, if you rely on other software, the Pro version has more integrations and you also get support for most of the features delivered by Dialpad. The standard plan does lack some advanced features like phone support, better integrations, and queue holds, all of these can be very important to use and that's why it makes sense to keep those things in mind in a situation like this. That alone can make a huge difference.
With that being said, the Enterprise plan is recommended if you have a lot of agents working with you. Generally, you can get a pretty good deal based on the business size, if your requirements exceed what the Pro version has to offer. While it can be difficult to run a business phone system, these options are great and the value you receive as a whole is pretty impressive. That's why this is a great solution to consider, with the value being very good in the long run.
Dialpad Talk Features & Pricing
Compare Plans
Standard
Pro
Enterprise
Quick Overview
Pricing (billed annually)
$15/mo/user
$25/mo/user
Not listed, contact sales
Pricing (month-to-month)
$20/mo/user
$30/mo/user
Not listed, contact sales
User Limits
1 user minimum
3 users minimum
100 users minimum
Unlimited Calling in US & Canada
Yes
Yes
Yes
Mobile/Desktop Softphone & App
Yes
Yes
Yes
Call Recording
Yes
Yes
Yes
Multi-Level Auto Attendant
Yes
Yes
Yes
Additional Numbers
No
Yes
Yes
Custom Routing
Yes
Yes
Yes
Extensions
No
No
24/7
Toll-free Numbers
Yes
Yes
Yes
Automatic Spam Detection
Yes
 Yes
 Yes
Number Porting
Local & Toll-Free, Fees Apply
Local & Toll-Free, Fees Apply
Local & Toll-Free, Fees Apply
Switch Calls Between Devices
Yes
Yes
Yes
Three-Way Calling
Yes
Yes
Yes
Voicemail Transcription
Yes
Yes
Yes
Click-to-Call
Yes
Yes
Yes
Speech Coaching
Yes
Yes
Yes
 
Collaboration Features
Contact Syncing
 Yes
 Yes
 Yes
Analytics & Reporting
 Basic
Advanced
Fully Customizable
Ring Groups
3 max
25 max
Unlimited
Call Queues
No
 Yes
 Yes
Online Meetings (UberConference)
Yes
Yes
Yes
Unlimited SMS, MMS (domestic only)
 Yes
 Yes
 Yes
International SMS
No
 Yes
 Yes
 
 
 
 
Integrations
Salesforce
No
Yes
Yes
Zendesk
No
Yes
Yes
Slack
No
Yes
Yes
Hubspot
No
Yes
Yes
Zapier
No
Yes
Yes
G Suite
Yes
Yes
Yes
Office 365
Yes
Yes
Yes
Azure
No
No
Yes
Okta
No
No
Yes
OneLogin
No
No
Yes
ServiceNow
Yes
Yes
Yes
APIs & Webhooks
Yes
Yes
Yes
Outreach
Yes
Yes
Yes
 
Yes
Yes
Yes
Support & Customer Service
Knowledge Base
Yes
Yes
Yes
Community Forum
Yes
Yes
Yes
Multilingual Web
Yes
Yes
Yes
Multilingual Chat
Yes
Yes
Yes
Support Coverage
24/5
24/7
24/7
Phone Support
No
Yes
Yes
Service Level Agreement
No
No
Yes
Should you use Dialpad?
What you will like about Dialpad is the fact that it has flexible pricing, and it does provide unlimite34d calling. Not only that, but since it's based in the cloud, you rarely have any downtime. That leads to efficiency and professionalism, things that are extremely important for your business in the long term.
On top of that, they have a unified communication system and videoconferencing support too. Add to that the fact that they integrate a very good knowledge base and a stellar API, then you can see why Dialpad is such a great option to take into consideration. It's one of the premier business phone tools out there, and it's definitely one of the options to keep in mind if you want to run a serious business with a cloud-based phone solution!